Improvised Gear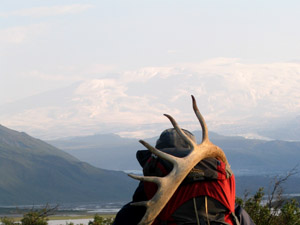 Ice Axe by Caribou Designs, located in the Wrangell Mountains, AK.
Usefull for snow arrests, climbing muddy banks, and snagging in brush.
Retail: $0.00, plus travel.


Return to Main Gear Page.
Return to Beyond Spec Home.
---
Garbage Bags
Garbage bags are one of the most versatile pieces of wilderness equipment out there. Size, opacity, and durability are all important qualities to consider.

Waterproofing via Garbage Bags. Garbage bags present a slew of gear-waterproofing options. Among them are:
Inside-Pack Waterproofing Put a garbage bag inside your pack, fill it with your gear, and twist the top of the garbage bag closed. Yes, the bage will tear if you're not careful. Yes, it's lifespan is limited.
Cover your Junk. Set your stuff down. Take garbage bag. Slip garbage bag over stuff. Done!
Ghetto Drybag. For river crossings or other very wet endevours, you can put critical items inside a garbage bag, twist the top well closed, and either knot or further convolute the twisted neck. Provided the garbage bag has no holes, it can keep your stuff dry even after a full immersion.
Low-Budget Raingear. Garbage bags are perfectly acceptable as expedient raingear, although they are less-than-desirable for extended use and/or very wet environments. Many garbage bags will be effectively ruined after a single use. Simply cut an arm hole at each bottom corner, and a head hole in the bottom-center of the bag. Slip it on. Voila! A poncho. This is also known as an "Oregon Prom Dress." Further suggestions:


Have or make a hat. You lose a significant amound of heat through your head, and water can run down through the collar.
Avoid raising your arms. Water can run through the armpits.
Don't forget your garbage bag poncho is fragile! Treat it like the queen of your life it is.

Portable Pond. In the desert, you can put a water bag in a hole and fill it with fresh water, making your own little cistern. You can also, of course, use it as a waterbag, obiously taking care not to carry too much water. The pond application can be useful for settling silt out of mucky water.
Solar Still. Using a clear garbage bag, you can construct a solar still in the desert.
Waterproof a Survival Shelter. In an emergency or survival situation, you can slit open garbage bags and lay them, shingle style, on your shelter, whether its sticks, leaves, and moss or cardboard and newspaper. This will make it a lot more waterproof, a lot faster. You can also waterproof a sweat lodge this way.
Bivouc Bag. Speaking of shelters, you can do an emergency bivouc in a garbage bag, especially a large super-duty one. In either case, you can stay warm by stuffing the bag with leaves, fern fronds, crumpled newspaper, or any other loft-giving substance. Then crawl inside. It may not be the most comfortable hooch, but it can keep you alive.
Garbage Bags Demand Vigilance.
Eventually, your garbage bags will get holes in them. You can tape these, but you'll need to check the bag regularly to know if the holes are there. Inevitably, your stuff will get wet from time to time. If you NEED it to stay dry, consider some sort of drybag, real or improvised.

Super-Duty Bags.
Lightweight garbage bags are great for most applications, but if you foresee using your garbage bag regularly and don't won't to be wasteful, consider using a superduty ďAlaskaĒ bag. These superheavy garbage bags are made of heavy (?visqueen?). A good place to look for them is in airports, were they're sometimes available free for packaging backpacks for airline flights. These bags can endure rough use and last through many trips. You can also use it as patch material, a tarp, or - in a real pinch - a flotation device.

Clear vs. Opaque
We generally find clear bags more desirable for a few reasons:
Clear bags allow you to see what's inside. This is good for inventory management. Clear bags, when used as raingear, allow you to see what your clothing arrangement is underneath. Clear bags are generally higher visibility. YOu can make a solar still with a clear bag.
Opaque bags, however, add a touch of class for formal occasions. This reminds us of a haiku written by Ian Haynes, Beyond Spec's Human Resources Specialist, touching lightly on their virtues:

Oregon Prom Dress -




How many gallons is yours?




Should I wear shoes?




Waste
The big downside of using garbage bags too much is their limited lifespan, which can lead to a lot of waste. This makes us feel bad.
---
Improvised Utensils & Crockery
Chopsticks, spoons, and skewers can be made from all sorts of things. In fact, the fact that we regularly forget to bring utensils on our little misadventures is a source of great fun. Never make utensils out of a plant or item that you know to be poisonous. One of our associates once spent a week eating off a pair of bifocals he found in the middle of the trail. In a not-so-merry event, another friend cooked pasta in a beer can he found.
Chopsticks. Select two good lookin' sticks. Clean off any frayed bark, etc. Heat the points briefly in a heat source (such as a fire or stove flame) to sterilize them, if you're worried about contamination.
Spoons. Starting with a suitable stick, you can burn or chisel out a concavity to serve as a spoon. You can also use the old shells of clams, mussels, and the like.
Skewer. Skewer = sharp stick. For kabobs and other skewers that you plan on exposing to intense heat, look for green shoots a plant won't miss. Living or recently living sticks have a higher moisture content than dead sticks, and even if a dead stick is wet, heat can drive the moisture out of it much more quickly. You don't want your utensil to decide it's really firewood. A Beyond Spec member who shall remain nameless once proudly hung his aluminum stew-pot over a little fire, suspending it from a branch on spruce-root cord he'd just made. As dinner was bubbling away, the little roots burned through, an a rain of potatoes, fiddleheads, and carrots subsequently went from - as they say - the frying pan into the fire. The author would like to emphasise that he doesn't know this moron. Nope. Never met him. Can't imagine who he'd be.
---
The Hobo Stove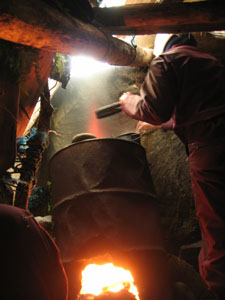 Beyond Spec's Hypothermia Researcher huddles next to a barrel stove,
a larger equivalent of the personal hobo stove.
The Hobo Stove has a long and colorful history, and exists in myriad variations. At heart, it's pretty simple: take a can, such as a 1-gallon coffee can. Punch holes around the bottom of the can. These are your chimney-holes. Snip an opening in one side of the can, extending, say... halfway down the side. The opening should be large enough to insert sticks, pinecones, etc. through. Set the can upside down, over a large candle or a very small fire. Voila! You have a one-burner stove.
---
Bretwood Higman, Beyond Specís Chief Metallurgist, swears by a strange little hunk of aluminum wire, citing the following uses:
Fire Tongs.
Tarp anchoring device.
Recovery Hook.
Jury-Rig.
Spatula.
Conversation Piece.
Logic would suggest a coathanger has similar virtues. Additionally, the small diameter of coathanger wire makes its suitable for heating, and then burning cauterized holes through gore-tex, nylon, bark, and similar substances. Logic would also suggest that Bretwood Higman is off his rocker.
---
Cordage
Without getting into the art of wrapping cordage out of plant fibers (for information on this, we recommend survival manuals like "Tom Brown's ..."), suffice to say that there's a little quick-and-dirty cord out there if you really need some. If you want to get more involved in cordage making, there's a ton of great, often beauiful natural fibers, like cedar, yucca, cattail, and dogbane.
Roots: The best quickie cord out there that we've found is roots. Cedar, banyan, spruce, pine, and other trees can have exceptional roots: long, supple, and durable. It's easiest to look in stream cuts, especially where recent flooding has exposed the roots of trees, or in landslides. Test them in your hand, feeling for flexibility, then cut off a root of the required length and thickness. If the root seems to dry and brittle, you can soak it for a few hours in water, and it should soften up.
Remember, a root is part of a living organism. Take roots sparingly, and consider the impact your actions might have. We prefer to gather roots that are no longer feeding the plant, such as those exposed by a flood.
Modern Sources: we've had good luck with electrical wiring, folded tape, and our shoelaces. Some fabrics, such as ripstop nylon, can be cut into acceptable cord. On beaches near major fisheries, you stand a good chance of finding fragments of lightweight fishing line, fishnets, and heavy fishing rope (called "line" as well, but differentiated here) of the sort used by commercial fishing boats. The heavy rope is stiff and often difficult to work with, but is tremendously strong and can sometimes be separated into its constituent strands.